The Red Feather Historical Society toured Two Bars Seven Guest Ranch on Wednesday, August 19, 2015 (along with the Cavalryman Steakhouse Tour).
Step back in time and join us in an incredibly scenic 3,000-acre historic working ranch that sits adjacent to National Forest land that includes a wide expanse on the border regions of both Wyoming and Colorado. The ranch was established during the days of the territorial government before Wyoming was a state. It has been in the family for four generations and a dude ranch for 10.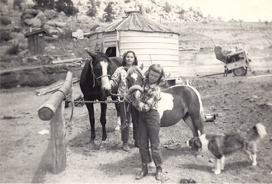 A young Polly Schaffer, the matriarch today of Two Bars Seven Guest Ranch (in back), getting ready to go out with the horses with Iris Swan a neighbor from a nearby ranch in 1948.