The History of the C.C.C. At Red Feather Lakes
The Civilian Conservation Corps was created by Congress and signed into law by President Franklin Delano Roosevelt on March 31, 1933.  It's goal was to put unemployed young men from poor families to work doing conservation related work on public lands such as National Parks, state parks, National Forests, Bureau of Land Management lands, etc..  Over 3,000,000 men served in camps in every state and territory.  The program officially ended June 30, 1942 due to the ongoing war.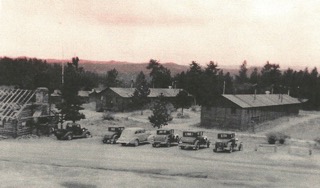 All enrollees' time away from work was supervised by the military including their transportation, medical care, discipline, food, housing and the like.  But their life was not one of strict discipline but para-military.  Enrollees served voluntarily for six month enrollment periods and were allowed to re-enroll if the budget allowed and their behavior was acceptable.  Enrollees were given their room and board and paid $30 per month of which $25 was sent home to their families.  On the job they were supervised by staff of the US Forest Service, US National Park Service and the like.
CCC enrollees were organized into companies of 200.  Colorado was in the 8th Corps area so they frequently served with men from Wyoming, New Mexico, Arizona, Texas and Oklahoma.  Enrollees belonged to a company, such as Company 2805, stationed at Red Feather Lakes.  Their physical address was their camp, such as F-50-C, at Red Feather Lakes.  Company 2805 arrived at Red Feather Lakes on July 19, 1935 and except for a short period were at Red Feather Lakes until the camp was disbanded on May 1, 1942.  Colorado had a total of 128 camps.
Nationwide the CCC was able to accomplish a great deal that federal land agencies were unable to do with limited budgets. Camp F-50 at Red Feather Lakes was not an exception.  At the Red Feather Ranger Station they built a dwelling, an administrative building, a garage and an assistant building.  At the Buckhorn Ranger Station they completed a garage/shop.  And at the Stub Creek Ranger Station they built a barn, a dwelling and a garage.  They built three fire lookouts by 1941: the Deadman's Hill Lookout, the White Pine Mountain Lookout and the Mount Thorodin Lookout.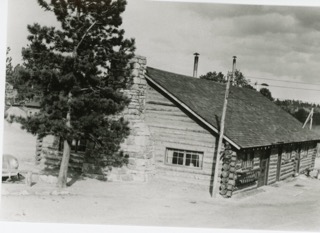 Much of the CCC work was not easily noticed.  They built a 57 mile long telephone line from Buckhorn to Redfeather to the Laramie.  They improved as many as 31 campgrounds by adding tables, fireplaces and the like.  Frequently their work was done from temporary side camps located at Deadman, Eaton Reservoir, Buckhorn, Cherokee Park and South Poudre where they worked on the Fort Collins Municipal Recreation Area.  Most labor intensive, requiring thousands of man days, was their road work such as the Manhattan-Deadman Truck Trail #283, Cherokee Park Truck Trail #263 and the Redfeather-Cherokee Park Truck Trail #268.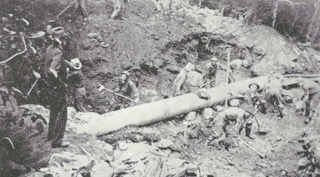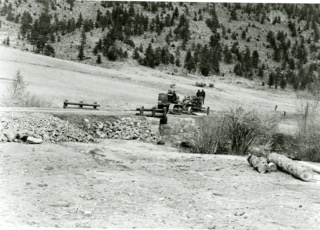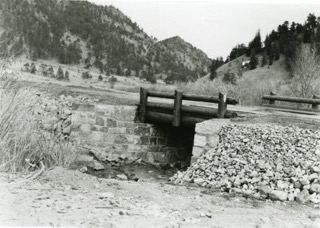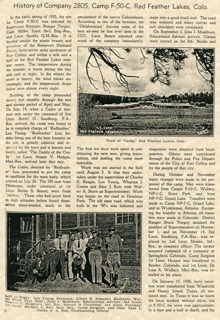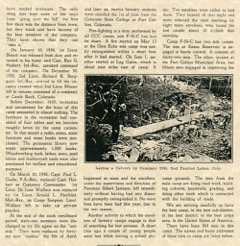 Information courtesy of Robert W. Audretsch, from his The Civilian Conservation Corps in Colorado, 1933-1942 to be published in 2016.
More info:  www.ccclegacy.org   and   www.cccbooks.org
See also: Photos of the CCC Camp Site from the July 2015 Tour.