The Historical Society visited Fox Acres in July 2008 as part of the "Red Feather Tour." The tour was led by John Stenzel.
The Fox Acres Club History recounts the story:
"Fox Acres Country Club began in 1960 as Ray Stenzel's dream of a quiet getaway for a little golf and some fishing for just a few friends. This extraordinarily beautiful country club began when Stenzel bought the old, 38-acre Red Feather Silver Fox Farm, complete with a log house, for $12,000. After many of the fox pens, buildings and other debris were cleared away, Stenzel began building his vacation home. He also included a putting green and two pitch-and-putt holes."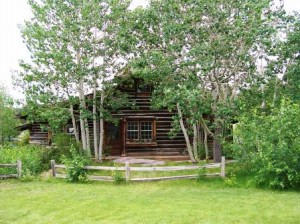 The Club history continues:
"In 1965, Stenzel hired teaching professional John Cochran to build a nine-hole course. However, with further land acquisition, the plans for a nine-hole course soon grew to a 6,350-yard, par 71, 18-hole course. For nearly 20 years, Stenzel & Cochran worked together, perfecting a course that blends well with its natural, lush environment against the Roosevelt National Forest."
Today Fox Acres Mountain Resort Community is a beautiful, 18-hole championship golf course with 15 pristine lakes teeming with large Colorado trophy trout.