The Story of Princess Redfeather (Tsianina Redfeather Blackstone)
 This is the story of the Indian princess for whom Red Feather Lakes is named.
Tsianina Redfeather was born December 13, 1882, in the Indian reservation territory of Oklahoma. Her Creek and Cherokee ancestors were uprooted from their southeastern United States homeland, then forced to march to the Oklahoma Territory between 1820 and 1842. So many died along the way that it was called the "Trail of Tears."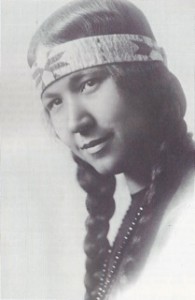 All of her seven sisters and two brothers had musical talent, but Tsianina's was outstanding.  She won scholarships to study music in Denver and New York. In Denver she met composer and pianist Charles Wakefield Cadman.  After that, she toured the world as a mezzo-soprano, often with Cadman. The opera "Shanewis" written by Cadman, was based on Tsianina's life story which she performed at the New York Metropolitan Opera in 1918.
Her theme song was Cadman's "Land of Sky Blue Water," but "Indian Love Call" was another of her famous songs.  She also sang tribal songs in 7 or 8 different tribal tongues. She toured all over the world, even in Europe during World War I.
While touring, she wore traditional clothing of soft leather; she braided her hair and wore headbands she beaded herself.
In 1922 she was touring the country when Dr. D.O. Norton heard her sing.  He and several men who had invested in resort property northwest of Fort Collins decided to name the small mountain village in her honor, so they called it Red Feather Lakes.  They also gave Indian names to many of the area's lakes:  Hiawatha, Ramona, Apache and Shagwa.
She worked with various organizations to help her people.  One group helped to get American Indians their US citizenship.  She also founded the American Foundation for the Education of the American Indians and the First Daughters of America.  She wrote a book titled "Where Trails Have Led Me."
Princess Tsianina is remembered as someone who charmed the world as a mezzo-soprano, pianist, writer, composer and a politician who did much for her people. This remarkable woman truly deserved having the beautiful mountains of Red Feather Lakes, Colorado, named for her.
***
To Celebrate the Red Feather Ranger Station's 50th Anniversary, the Red Feather Historical Society and community worked with the Ranger Station to have a Red Feather History month in July of 1988.
Several activities were planned throughout the month, starting with a Parade on July 2nd and culminating with a Red Feather Reunion for US Forest Service personnel, Civilian Conservation Corps, and local residents on July 30th & 31st.
R. J. Wiley created this painting of Princess Tsianina for a play about her which was performed on July 3rd, 1988 in the area where the RFL Community Library now stands. It hung at the High Country Hair Care Salon on main street for many years.
Story adapted from newspaper articles published in the 1980's.