Trails End Tour
The Historical Society visited Trails End, June 2007.
Trails End is where CR 80C, Cherokee Park Road, meets the North Poudre and Trails Creek. The name was probably chosen because this is where Trails Creek ends, meets the North Poudre.  The North Poudre continues west while CR 80C follows Trails Creek northwest for several miles to a junction with CR 59.  At this point CR 80C splits and follows Devils Creek west and CR 59 continues along Trails Creek for a while in a northwest direction to the Wyoming Border. Interestingly, maps show the name Cherokee Park Road goes with CR 59 at this point, not CR 80C.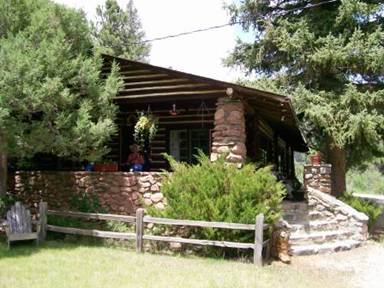 Lafi Miller has seven pages on "Trails End with Frank Miller, the Legend" (pg. 52 -58) including two pictures: Frank and Peggy Miller, Frank Miller kissing his pet bear.  According to Lafi, the ranch "has been operated as a cattle ranch, horse ranch, guest ranch, and mountain home and as a showplace with a zoo of wild animals, wild birds, and pet fish.  For many years it was one of the best known tourist attractions in the Rockies."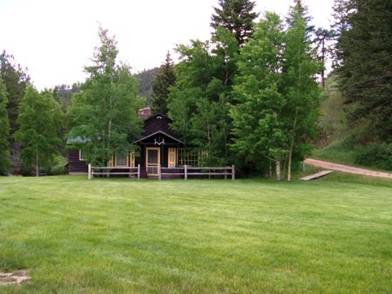 Miller owned the property from 1920 to 1938 and made it famous because of his collection of wild animals who he "tamed" in varying degrees, witness his kissing bear.  He was a marksman and entertainer, including time with the Buffalo Bill Show of Col. William F. Cody where he traveled throughout the U.S. and Europe.  His other pursuits, according to Lafi, included range riding, ranching, miner, garage owner (Northern Garage, North College and Pine Street), and artist.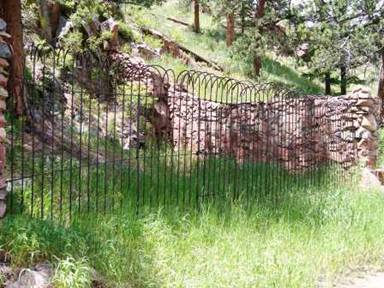 In 1981 Wayne and Phyllis Schrader bought a portion of the ranch which included the main ranch buildings, and they are the present owners, as of the date of the tour.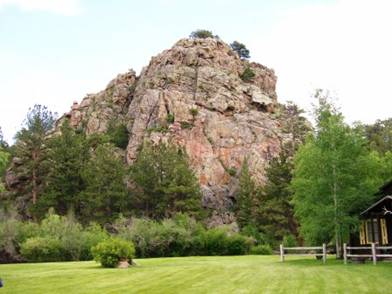 Tour Summary and Photos by Judd Adams.