Life History of Sugarbabe Carnival – 1921-2004
[History available as PDF file]
→ Return to "Sugarbabe Day" transcript page.
Sugarbabe was born Herta Josephine Koch on April 29, 1921, in Innsbruck, Austria.  Sugarbabe meet Billy Carnival during World War II when he was an Army medic stationed near Innsbruck. Billy nicknamed her Sugarbabe because he couldn't pronounce her real name, Herta.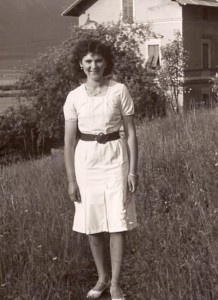 She immigrated to the United States in 1947, coming through the Ellis Island Immigration Station. Billy and Sugarbabe were married in August 1947 and lived in North Denver with Billy's large Italian family.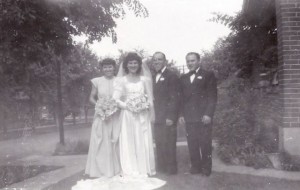 In 1953, they moved into their own home in Denver and had three children – Tex, Jody, and Freddie. They lived there until Billy accepted a job in 1970 with Mapelli Brothers Meat Co. as caretaker of a ranch in Red Feather Lakes. In 1971 they moved into the original Hardin Cabin. It was a big adjustment from city life, but Sugarbabe soon learned to love the mountains and the people in Red Feather Lakes. She worked at Fox Acres for many years.
Billy died in 1977 and Sugarbabe lived on her own in their little historic cabin where she became a self-taught painter. Never one to fret about "nothing to do" Sugarbabe found a splintery piece of wood and using some charcoal from the fire and discovered a liking for art. She never stopped drawing and trying out new mediums to express her talent. This early beginning blossomed into one of Red Feathers most popular artists.
→ Return to "Sugarbabe Day" transcript page.